- One night at the Averill Court Motel before the cruise in a Gold Studio double room
- 3 day / 2 night Ecocruz (double cabin)
- Secure vehicle storage for the duration of the cruise
- NZ$ 915.00 per person all inclusive (based on double occupancy)
We are pleased to offer a special cruise and accommodation package in conjunction with Averill Court Motel so that you get the most out of your experience in the Bay of Islands.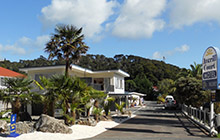 The Averill Court Motel has great reviews and is located close to the beach, less than 1km away from the wharf from where we depart.

The package includes one night's accommodation before the cruise, plus free and secure parking while you are on-board. This peace of mind and space to relax on land before the trip is available at a great combined price of NZ$ 915.00 per person based on double cabin/room occupancy on the boat and at the motel.
You can book online here or else This email address is being protected from spambots. You need JavaScript enabled to view it. to find out more details about staying additional nights, or different cabin/room arrangements.